An Authentic Day for the Rising Star & Philanthropist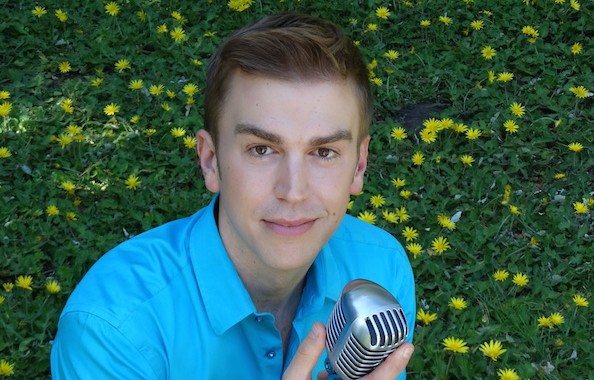 Spencer Day's The Mystery Of You is no doubt a groovy song, however, there's no mystery to the man. He's out there, transparent and living his life authentically – honestly while having quite a Day of it I might add. He's coming to Atlanta to croon for a cause and he wants you to join him. Rising singer-songwriter Spencer Day brings his sex appeal, swag, rich baritone voice, and electric stage presence to Center Stage on September 6th to help raise money for the Alzheimer's Association. He comes ushered into Georgia by friend and Atlanta resident Sheri Maddox who is the founder of the event. Maddox and Day met while Spencer was doing a music festival and through casual conversation realized they both had pivotal people in their lives succumb to the disease. For Spencer he lost his Grandfather and Great Grandmother and at the time Sheri was dealing with her grandfather's last stages of the disease. They became supportive friends to one another.  Months later, when Sheri's Grandfather passed and she wrote Spencer about the news. Day contacted her to console her and ask what he could do to help. Maddox expressed her desire to find a way to help raise money for the disease and, to her surprise, Day immediately offered to come to Atlanta to do a benefit show, all at his expense. By the way this makes the second year Day gives his time and talent to the cause.
Now it's fair to say that Day is clearly on the fast track to musical success. He is being likened to popular artist such as Michael Buble and Harry Connick Jr. That's not surprising giving that most of what pours out of Spencer is quite intoxicating. He yields a mighty lyrical pen and cranks out very hip tracks that produce toe-tapping songs. Yet the most notable thing about this singer songwriter I found when talking with him is that he is genuinely warm, sincere, and real.
When asked, what made this benefit concert so special to him? Spencer said; "Well this disease has touched me personally. I lost both my Grandfather and Great Grandmother to Alzheimer's. And my wonderful friend Sheri is the true catalyst for bringing me to Atlanta to perform. So it's personal too. At the same time I love Atlanta and the LGBT community".
On the heels of just releasing his 5th album Daybreak, which contains rich original songs that have awesome lyrics married to catchy tunes. I couldn't resist asking Day how he conjures and creates these songs? From where inside him do they come? "Over the last 5 years a lot has changed for me. I have a greater sense of purpose about my life and music. I really work at living my life authentically and transparently. I try to stay grounded and connected to what's real in my life. I also work on facing my demons and understanding some of my personal challenges. All of this gets fueled into my art. It's interesting, when you are standing on stage and creating anything you're really naked in a sense. My feeling is you might as well let it all hang out!"
No doubt it's that free spirit kind of attitude that led Spencer down music lane to develop into the jazz singer-songwriter he is today. He tried his hand a waiting tables and even got fired from a fast food restaurant job to be reminded that doing piano bar and playing shows was his niche. To that end Day remarks; "It was never on the table for me to be a jazz singer. It wasn't a realistic goal to me at the time when I was waiting tables or getting fired at Taco Bell (that really happened to me by the way). But playing piano, writing songs and doing shows came natural."
And as for the realization of success for Spencer? I asked when that occurred for him. What was that moment? "I guess the moment came for me after when I was driving all alone to see these really cool hippy friends of mine in Malibu and my first hit song Till You Come To Me came on the radio. I stopped and blasted it the whole time feeling giddy and thinking of my mom, it was a very surreal moment for me". That song by the way jazz lovers stayed on the charts for 30 weeks making it the longest type of jazz song to stay up on the charts that length of time.
From festivals to concert venues, Spencer is indeed rising in the jazz arena and what is so great is that he is doing it humbly. As for Spencer's take on Atlanta. "I love coming to Atlanta! I think there is such a beautiful energy to the south that for me is incredibly exotic. I look forward to the food and being out and about the LBGT community and meeting people. Plus I love to perform for Atlantans, they're fun!" Get your tickets and let Day TAKE YOU AWAY on a knockout show. You'll be glad you did.